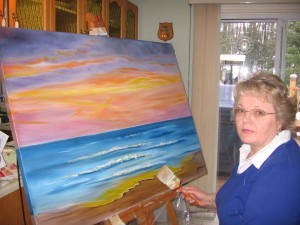 Connie enjoys painting on a variety of surfaces with either oils or acrylics. She has a studio and gallery of her work at her home in Bracebridge, and would welcome any visitors to come and have a look at her art. She tries to portray her impressions of her immediate surroundings in Muskoka as well as the beauty of various sunsets on the surrounding lakes.
Her work has been sold to private collections in Europe as well as in Canada.
Connie is a member of Muskoka Arts and Crafts in Bracebridge, and she has been featured as a guest artist with the Muskoka Lakes Spring Art Tour.
She has also participated in the Muskoka Arts and Crafts art show and sale " WHO ART THOU", which has been held every November for the last several years.